Frictionless remote support for GoToAssist customers with the integrated Slack App.
Keep your employees productive by assisting them where they work every day – in Slack.
Employees can reach out to you through chat, and you can easily start a remote control session in the Slack interface using the built-in slash command -- /gotoassist -- without any installation. Resolutions are fast and fluid without jumping platforms, so they can get back to business with less interruption.

See GoToAssist in action.
GoToAssist provides remote support to your end user through Slack.
1. Open a discussion with your client and use the "/gotoassist" command. The command works in direct messages only.

2. You will recieve a message with the "Join" button. You will be redirected to the GoToAssist website. (https://console.gotoassist.com)

3. You have to wait for your client to connect.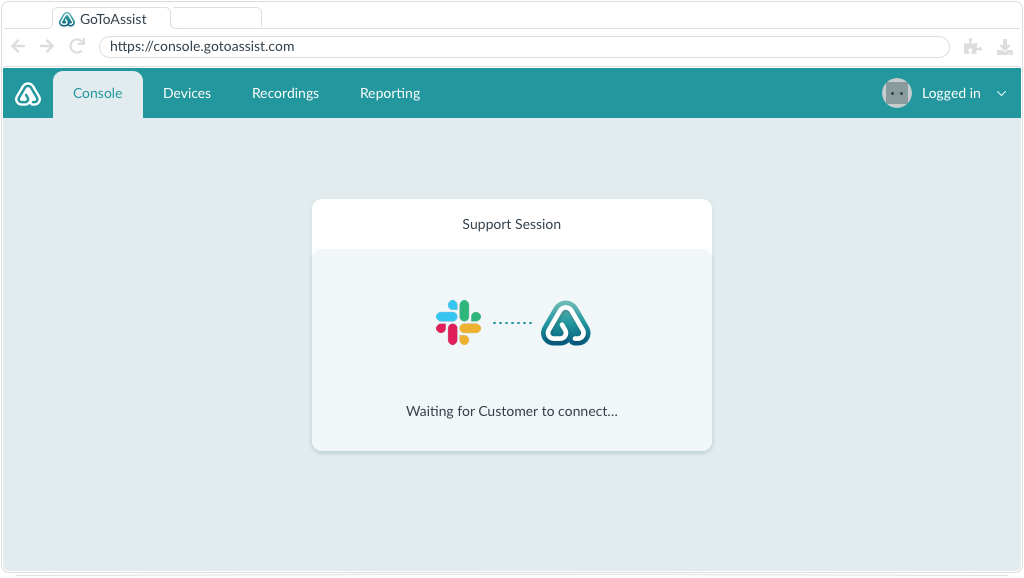 4. While you wait, your client gets a dialog message to choose their platform by clicking on the appropriate button.

5. An executable file will be uploaded to the channel. The client has to download and run it.

Connect to Slack in few steps:
Add GoToAssist App to your workspace on this page (https://console.gotoassist.com/slack/landingpage)

Log in to GoToAssist using your credentials

Sign in to your Slack workspace

Authorize GoToAssist in your Slack workspace. NOTE: Make sure, that you are logging in to the proper workspace

Installation complete.

You are ready to use GoToAssist's /gotoassist slash command.
That's it. You and your end users are ready to use the GoToAssist.
Tip: If end users don't see GoToAssist listed under Apps, remind them to click Browse Apps (the plus sign) to add it themselves.
Powered by:
the market leader in remote access and remote support solutions